Race Results below
A perfect weekend for the 2015 Round Taal Volcano Regatta.
TLYC welcomed sailors from Hong Kong and Cebu on Friday. Other sailors started arriving early as well due to a holiday week in Manila due to APEC.  The Skippers briefing Saturday morning was very well attended, and it was a good thing, because the courses were a bit different from the usual windward leewards.  We used an anchored photo boat to allow for some good reaching legs, and at the same time, get good shots of the racing.  The results and post race comments were positive. It will be the same next year.
The first race of the day was for the Noel Lim Memorial Trophy. All the boats race together on one section of the course. Times are taken, and we get overall winners based on PY handicap.  The first race also serves as a shakedown for new boats. If breakages happen, they usually happen in the first race, close to the club.
This year saw Hobie 16s, Hobie Bravos, the new OZ Goose class, and even a W-17 trimaran.
Similar to last year, the Hobie 16s took all three top slots, but data collected this year on the performance based handicap system will very possibly see some changes on the podium next year.   The Hobie 16 class is definitely hard to beat because the sailors in this class are Either International Gold Medal winners for the Philippines, or racers of that caliber.
The rest of the story, and pictures, under construction.
Results below.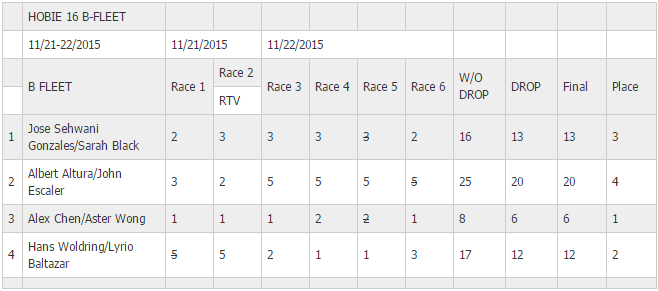 Written by Peter Capotosto