Taal Lake Yacht Club held the  Lima Park Hotel 2016 Philippine Hobie National Championship, as scheduled, on January 9-10 2016.
The event was supported by PHINSAF and is part of the Potato Corner Travellers Series.
It is also the first Regatta to be counted as part of the Potato Corner Club Championship Series at Taal Lake Yacht Club.
13 teams joined the event, which was held in near perfect conditions, with the Race committee headed by the Philippines sole ISAF race officer, Jerry Rollin, helped by TLYC's experienced, Boyet Mendoza.
Racing was tight at the top end between TLYC's Michael Ngu, and PSA's Ridgeley "Alan" Balladares, who most would consider to be the Philippines best sailor. Alan has been on the podium for dinghies and cats in both the South East Asian Games and the Asian Games. He has been on the podium for practically every major big boat regatta on the Asian Championship Circuit.  Alan won this regatta by a mere 4 points over Mike Ngu.  Mike took second overall, but first in Masters division (over 45). It is expected that both Mike and Alan will be going to the 2016 Hobie Worlds.
The second group to battle it out, and separated by a mere two points, were TLYC's Maria and Joe Hagedorn, and the Philippine Sailing Assocaiation's "PSA 2" team of Joel Mejarito and Rubin Cruz Jr. who by next year, will probably be the PSA's top team if Alan Balladares retires.  Maria and Joe won out in the close fight, to clinch 3rd overall, and Second in Masters.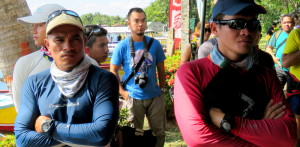 The next block of competitors was led by the father and son team of Monchu and Diego Garcia, who came 5th overall, and 3rd in Masters.  Three points behind, was Eric Tomacruz with new crew Japeth Pablo.  Being able to drop his one bad race put Eric above the longest running (and most fun) duel in TLYC , between arch enemies Alex Chen and Eddie Legarda.  Alex pulled out all the stops this year, bought a new boat,  and imported Hong Kong's Aster Wong to crew for him in both the "round the Volcano Regatta, and these National Championships. The Inspired Alex, accomplished his main goal of beating eddie, but it was very close.  Eddie sailed very well, and actually would have beaten both Eddie and Eric, but after the drop he tied at 55 points with Alex, and lost on the countback.
All in all, excellent and exciting racing for everyone in the regatta, and it was nicely covered by the press as well.  I can't wait to see Barry Dawson's article in Active Boating and Watersports.
More Regatta Pictures